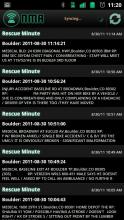 Rescue Minute has been hard at work improving the system, with a September general availability goal in Boulder County. Read on for some of these improvements.... Rescue Minute now natively supports the following messaging methods:
Rescue Minute now can tailor the message to your messaging format:
URL to map showing the location of the page
shortened message for SMS
full, original message
... more coming, in testing: Enclosed map for MMS, e-mail, web, Recent history at that address, customizable fields
Stay tuned for more improvements!